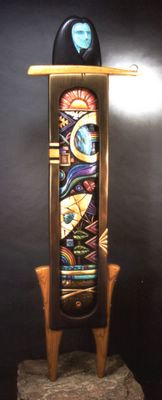 "Muse" (mixed media sculpture)
(click image to enlarge)


Muse close-up: turquoise face


Muse close-up: carved body

The Muse is the traditional Spirit that inspires Artists, Poets and other creative people. The imagery I've carved in deep relief in the body section is representative of the things that inspire me: Light, space, geometry and organic/ natural shapes, rhythm, high contrasts in color and value, and the creative works of artists through the ages.

In the execution of the carving itself, as well as on the back of the piece, I have carefully preserved the chisel and tool marks, as well as the natural cracks in the wood, to create a rich, rustic flavor, and to remind the viewer that it is only by the labor of the hand that such creative works come into being.

The body of the piece is hand-carved from a solid heavy plank of Poplar, and the carving is polychromed with acrylic artists' colors accented with composite gold-leaf. The arms and legs are carved from warm-toned Oak, while the hair, which ends in a ponytail on the back of the piece, is Ebonized Oak. The face was created by overlaying hand-cut turquoise mosaic, piece-by-piece, over a carved wood base... then the assembly was ground and polished as a single large stone. The sculpture sits atop an 85-pound slab of Arizona Moss-rock. Resting in a depression carved in the Muse's left hand is a polished Brazilian rutilated Quartz crystal ball, symbolizing the "prophetic" nature of the artists' work: the dreams of artists today inevitably become the realities of tomorrow.

The piece stands 67" tall on a stone base that is 23" wide X 21" front-to-back. I envision this work of art as a greeting in a foyer or entryway, or as an accent in a great room to the side of a fireplace (but not too close!). It is for display indoors only, not to be exposed to the elements (as would be the case for any fine painting). The bottom of the stone has heavy felt pads attached, to protect your tile or wood floors.

Documentation sent with the piece is a Certificate of Authenticity, which includes the artist resume, artist statement, and a list of awards. Also included is the Appraisal of Replacement value, certified & signed by the artist. The piece will be crated & shipped in two pieces: the sculpture itself, and the stone base. The Quartz crystal ball will be packaged separately & sent via first-class mail as a third package.

THIS PIECE IS STILL AVAILABLE, @ US $17,500. I'll even pay the freight within Continental US! Email me for details.